*Made in the USA*
*Free Shipping within the US*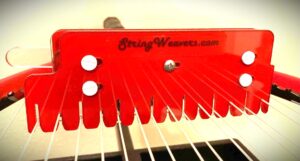 The StringWeaver is an ingenious compact tool which mounts on the main strings of the racquet. It creates a gap between the mains which allows you to weave the cross strings with far less effort. You will be able to pull the crosses faster without burning or notching the strings and achieve more uniform tension on the string bed.
Sizes available to fit nearly all racquets
Greatly reduces chance of misweaving
No assembly required, no parts to lose
Does not affect overall tension or feel of the strings
Great for poly, textured strings, and natural gut hybrids
Satisfaction guaranteed or full refund within 30 days of purchase
One year warranty against breakage under normal use
The StringWeaver comes in versions for high, low and very low density string patterns for tennis racquets.  There is also a StringWeaver designed specifically for badminton racquets. Whether you are just starting out, string infrequently or are a seasoned professional, the StringWeaver will improve your stringing while saving you time and effort. Makes a great gift for the racquet stringer in your life. The StringWeaver is recommended by the United States Racquet Stringers Association as well as many highly regarded professional stringers. It is made in the USA and shipping is free within the United States.
Watch the video below to see the StringWeaver in action. You can also check out this independent video review of the StringWeaver on the very popular Tennis Spin YouTube channel HERE.
To determine what size StringWeavers you may need, click on this link: CHOOSING THE CORRECT STRINGWEAVER TOOL.
After that, go to SHOP to add StringWeavers to your cart, then go to your CART to check out.